Mô tả chi tiết
Rượu Johnnie Walker Blue Canh Tý - Year of the Rat 2020, là phiên bản giới hạn phát hành lần thứ 3 (phiên bản phát hành lần đầu trong seri này là Year of the Dog, phiên bản phát hành lần 2 là Year of the Pig - Kỷ Hợi) linh vật 12 con giáp cho mùa tết cổ truyền Việt Nam.
Hình ảnh tiệc ra mắt bộ sưu tập tết Canh Tý 2020 - Johnnie Walker Blue Chuột.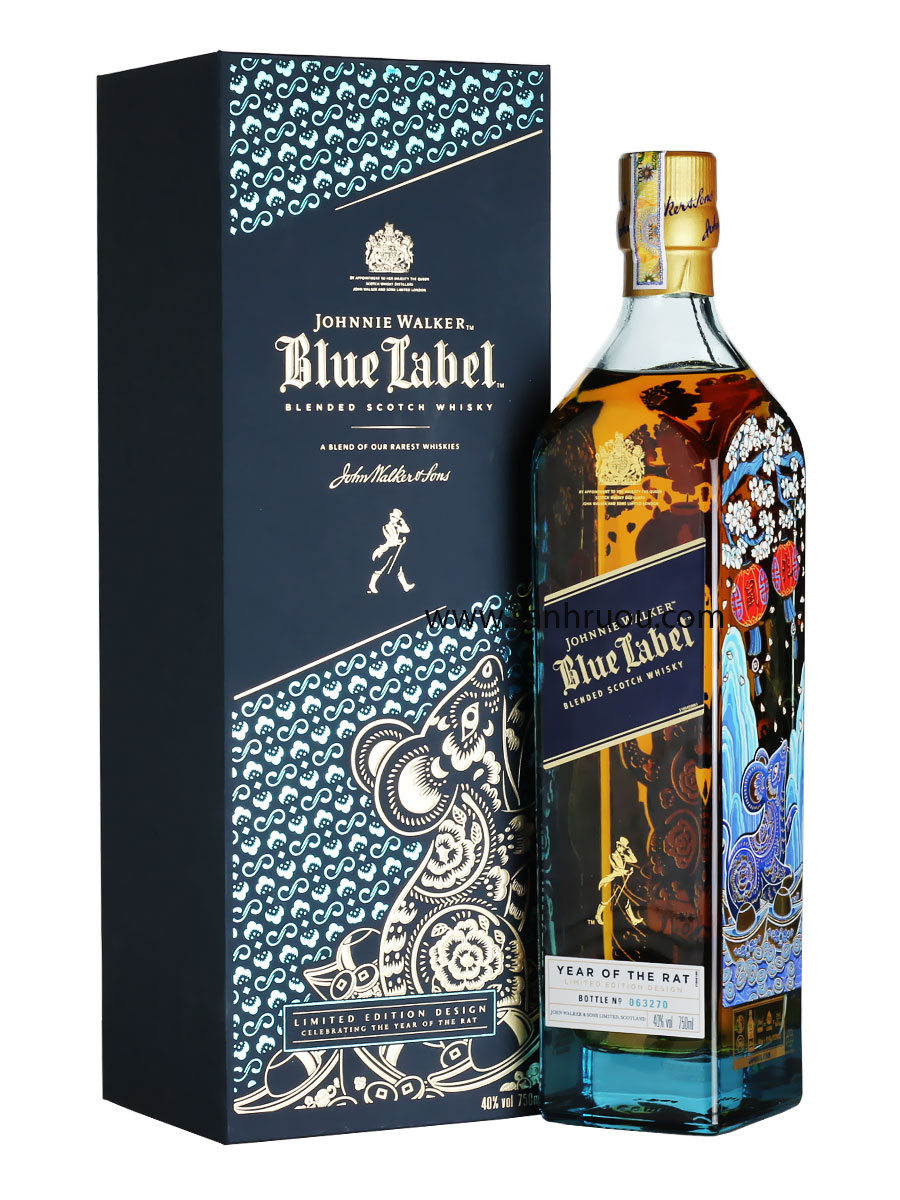 Rượu Johnnie Walker Blue Label, là dòng whisky cao cấp nhất trong dòng thương mại (mass production) của nhà Johnnie Walker, nay thuộc sở hữu của Diageo. Quá trình chọn lựa công phu của các bậc thầy pha chế, từ những thùng rượu lâu năm single malt và Grain whisky trong kho tàng Johnnie Walker đem đi phổi trộn với nhau. Chỉ 1 thùng được lựa chọn từ 100 thùng ủ để cho Johnnie Walker Blue, chính vì vậy mà sự ổn định vẫn được duy trì từ lúc ra đời cho đến nay và là chai rượu được ca ngợi nhiều nhất thế giới.
Thưởng thức
Quy luật thưởng thức whisky Blended cao cấp này là uống nguyên chất (uống neat): Uống trực tiếp, kiểu ly Tulip, Shot hoặc Tumbler.
Cũng có thể thêm đá (On The Rocks): Kiểu uống cho viên đá khối vào ly Tumbler (Rocks) sau đó rót rượu lên đá rồi thưởng. Kiểu này làm cho ly rượu của bạn mát mẻ hơn. Tuy nhiên kiểu này rượu nhạt hơn và giảm hương thơm.