Mô tả chi tiết
Rượu Macallan Quest - Year of the OX, phiên bản giới hạn tết Tân Sửu của hãng phát hành nhân dịp năm mói, năm Tân Sửu. Macallan Quest 1 lít trong bộ sưu tập The Macallan Quest Collection, không để tuổi rượu (NAS) phát hành cho kênh bán lẻ toàn cầu gồm: Macallan Quest, Lumina, Terra và Enigma.
Rượu Macallan Quest được phối trộn từ 4 loại thùng gỗ sồi gồm: European & American Sherry-seasoned oak, American ex-Bourbon & hogshead casks. Trong một nổ lực không mệt mỏi của nhà Macallan trong hành trình vạn dặm tìm kiếm gỗ sồi cho quá trình ủ rượu.

Thưởng thức
Thưởng thức Single Malt Whisky, là thưởng thức dòng rượu tinh túy nhất, theo thời gian. Nên uống nguyên chất (uống neat) từng ngụm nhỏ, lý tưởng nhất là dùng ly Tuplip.
Thêm đá (On The Rocks): Kiểu uống cho viên đá khối vào ly Tumbler (Rocks) sau đó rót rượu lên đá rồi thưởng. Kiểu này làm cho ly rượu của bạn mát mẻ hơn. Tuy nhiên kiểu này rượu nhạt hơn và giảm hương thơm.
Phối trộn/pha Cocktail: dành cho các dòng Single malt trẻ tuổi.
Khám phá rượu hè 2021
Cùng Sành rượu khám phá những chai rượu phổ biến có hương vị tươi mát hay bùng nổ để thưởng thức vào mùa hè nhé.
Rượu Macallan Terra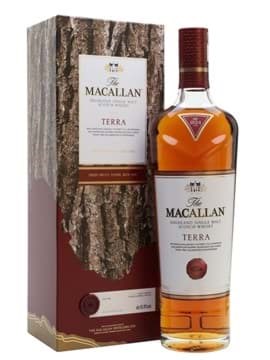 Rượu Macallan Terra
700 ml / 43,8%
Rượu Macallan Enigma
Rượu Macallan Enigma
700 ml / 44,9%