Mô tả chi tiết
Rượu Macallan Estate Reserve, hay còn gọi là rượu Macallan 1824 xanh, trong bộ sưu tập The 1824 Collection. Macallan Estate Reserve là dòng single malt của nhà Macallan bởi John Ramsay cho kênh bán lẻ du lịch, không công bố tuổi rượu (NAS).
Nhà Macallan giới thiệu dòng sản phẩm này là loại single malt được ủ trong những thùng ủ rượu Sherry truyền thống loại to (hogshead cask) và chỉ những thùng ủ cho hương vị mạnh mẽ và sâu sắc mới được chọn để sản xuất ra dòng rượu này. Áp dụng kỹ thuật lọc không làm lạnh (non-chill filter) và đóng chai theo phương pháp cổ 800 proof đã tạo ra một loại whisky tinh khiết nhất và có mùi vị đặc trưng nhất. Mũi ngửi được mùi ngọt hài hòa với mùi da thuộc và đậu khấu nồng ấm. Rượu mạnh mẽ nhưng rất êm dịu có vị mật mía, hỗn hợp gia vị, trái chanh và một ít khói trong miệng. Hậu vị kéo dài, mùi gia vị nhẹ nhàng, mùi cocoa và gỗ sồi.

The 1824 Collection bao gồm: Select Oak, Whisky Maker's Edition, Estate Reserve, Oscuro và 1824 Limited Release được tung ra thị trường bán lẻ trên kênh du lịch năm 2009 tại các sân bay Châu Âu, Mỹ và Châu Á tại Singapore.

Thưởng thức
Thưởng thức Single Malt Whisky, là thưởng thức dòng rượu tinh túy nhất, theo thời gian. Nên uống nguyên chất (uống neat) từng ngụm nhỏ, lý tưởng nhất là dùng ly Tuplip.
Thêm đá (On The Rocks): Kiểu uống cho viên đá khối vào ly Tumbler (Rocks) sau đó rót rượu lên đá rồi thưởng. Kiểu này làm cho ly rượu của bạn mát mẻ hơn. Tuy nhiên kiểu này rượu nhạt hơn và giảm hương thơm.
Khám phá rượu hè 2021
Cùng Sành rượu khám phá những chai rượu phổ biến có hương vị tươi mát hay bùng nổ để thưởng thức vào mùa hè nhé.
Rượu Macallan Terra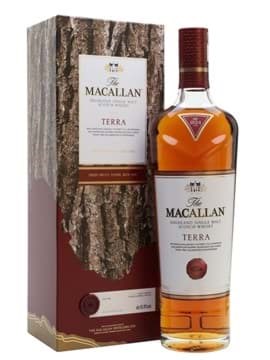 Rượu Macallan Terra
700 ml / 43,8%
Rượu Macallan Enigma
Rượu Macallan Enigma
700 ml / 44,9%